Latest Issue: January 2022
Maximising Customer Value in Automotive Engineering: Meeting more specialised customer needs – Page 6.
Automotive Engineering Management & Compliance with IBM®: A tour of the IBM® Engineering Lifecycle Management (ELM) suite for Automotive – Page 8.
Meet the Team – Introducing Software Developer and Consultant, Pete Skipper – Page 10.
Agile Systems Engineering: Combining the best of Agile and Systems Engineering to better manage complex programmes – Page 6.
The Complexity Gap: Managing complexity in rail supply using Systems Engineering methods – Page 9.
Meet the Team: SyntheSys recently welcomed Matt Muller to the team – Page 11.
Systems Engineering Training 2020: Adjusting to a new normal – Pages 2 and 5.
Managing Complexity: Adapting the Product Life Cycle for Complexity – Page 6.
Engineering Lifecycle Management with IBM® – Introducing the toolset and the new version 7.0 release – Page 8.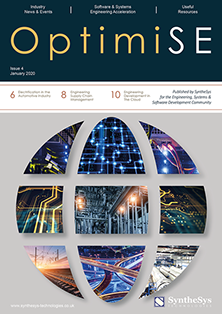 Electrification in the Automotive Industry – Page 6.
Supply Chain Collaboration – Page 8.
Engineering Development in the Cloud – Page 10.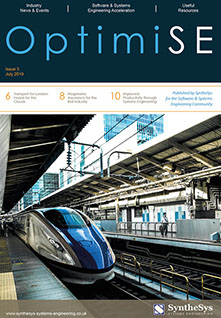 Transport for London (TfL) – Page 6.
Guest Article: Progressive Assurance for the Rail Industry – Page 8.
Improved Productivity through Collaborative Engineering Management – Page 10.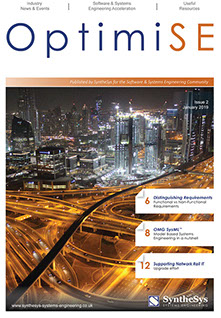 Functional and non-functional requirements – Page 6.
OMG SysML™: model-based systems engineering in a nutshell – Page 8.
Supporting Network Rail IT: assisting the upgrade
– Page 12.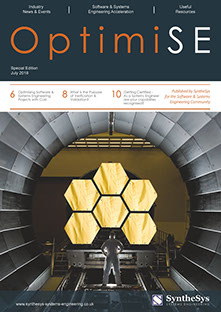 Optimising Software and Systems Engineering Projects with Collaborative Lifecycle Management (CLM) – Page 6.
What is the Purpose of Verification and Validation?
Page 8.
Getting Certified: as a systems engineer, are your capabilities recognised? Page 10.
© SyntheSys Systems Engineers Limited - All Rights Reserved
Version 2.0h dated 29 October 2021